From Idea to Start Up
First ryon – Rhein–Main–Universities Summer School
2023/06/06
The first ryon summer school will bring together scientists with the aim to generate business ideas in the domain of synthetic biology. The number of seats is limited to 50 persons. The working language will be English.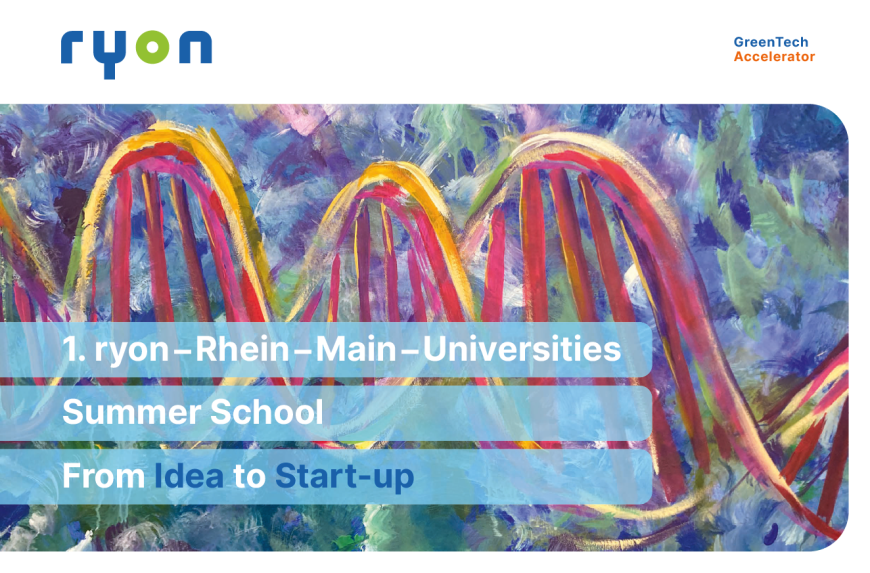 What: Synthetic Biology
When: 4th – 8th September 2023
Where: Darmstadt, Frankfurt, Mainz, Wiesbaden & Gernsheimn
Who: You are young scientist (Master, PhD student or PostDoc) with a background in molecular biology, biochemistry,synthetic biology or biomolecular engineering.
Program
Day 1: Scientific lectures leading scientists in the field of synthetic biology
Day 2: Meet SynBio company founders and discuss their experience
Day 3: Team presentation and match making – find idea partner
Day 4: Business plan development and coaching
Day 5: Pitch and ryon-founders Award Ceremony
The program is supported by Goethe Universität Frankfurt, Technische Universität Darmstadt, Gutenberg Universität Mainz and the technology transfer units Highest, Innovectis and TQ.
The winner will get an award that supports the realization of the best BusinessIdea in SynBio! All participants will receive a certificate.
You want to learn more about the 1. ryon-Rhein-Main Universities Summer School or register?Applicants are requested to send a CV, motivation letter (max. 1 page) and optionally a summary of a SynBio project (max. 1 page) that the applicant want to work on during the summer school. Applicants that want to define a project during the summer school or want to join a proposed project do not have to provide the project summary.
Send your application to info@ryon.de.
More detailed information will be provided soon.
Disclaimer
If you would like to claim your idea as owner before the summer school starts, please sendthe idea forehand to the indicated contact to assure that the idea is attributed to you and any additionallygenerated ideas resulting in IP are joint rights and maybe used by all team members that contributed tothe idea.